Translate this page:

TV for Christians
Trending Christian Movies
Trending Christian and Drama Movies
Five friends struggle through life's challenges, discovering through faith, that only God can empower them to become the person they truly desire to be.
Four middle-aged ladies discover purpose when they launch a unique fundraising effort to save a local women's shelter from imminent foreclosure, testing the limits of their friendship and themselves.
Five diverse kids formed THE FAITH CLUB as children and 10 years later, after one of their group passes away.
After losing his wife in a bike accident, Joe Bigler finds himself spiraling into an abyss of uncertainty, until he befriends a Dog, that helps him uncover the mystery of his wife's death.
When the Water's family is struggling with the loss of a devoted husband, healing comes through a miracle.
With 10 days to pay her mortgage and taxes, Angela Logan, risks everything and decides to bake her way out of foreclosure.
Promise, Texas is no place to raise a family. Just when things are at their darkest, a mysterious boy appears.
After her grandfather passes, a girl discovers a portal into another dimension and uses it to help those in need.
With his sister suffering from a serious illness, a young boy takes it upon himself to get God's attention in hopes that God will heal his sister.
When his father is arrested for printing a forbidden letter written by controversial reformer Martin Luther, 12-year-old Storm escapes with the original.
Follow the Lamb who saved the world in this wonderful story, seen through the eyes of farm animals.
Tyler, an extraordinary eight-year-old boy, faces his battle by sending letters to God, intercepted by a postman.
After a rising High School football star is sidelined. He is forced to tackle life's greater obstacles.
Based on the inspiring, powerful true story and journal entries of Columbine student Rachel Joy Scott.
A once famous preacher has an opportunity to regain his former glory.
A retired police officer meets a mysterious woman who gives him a reason to re-examine his life.
When a college freshman faces an unexpected identity crisis, she takes a road trip with her misfit friends.
Falling in love wasn't a part of Heather and Tylers plan, will they strike out?
An unprecedented look at Mary of Nazareth in her last earthly days as she helps the Church regain their beliefs.
When Jerusalem is conquered by the Babylonians, the King notices a young man's prophetic gift.
New Queen Jewish girl Esther quests to stop the Lord Haman's evil plot to exterminate the Jews
Get your adrenaline and your faith flowing with this series about an authoritative, mysterious figure.
True stories of ordinary people who discover that during life's ups and downs, God is there and faith happens.
Ex-racecar driver Randy Wilcox moves his family from Atlanta to the mountains of Colorado, where he inherits The Serenity Inn--along with a town full of characters!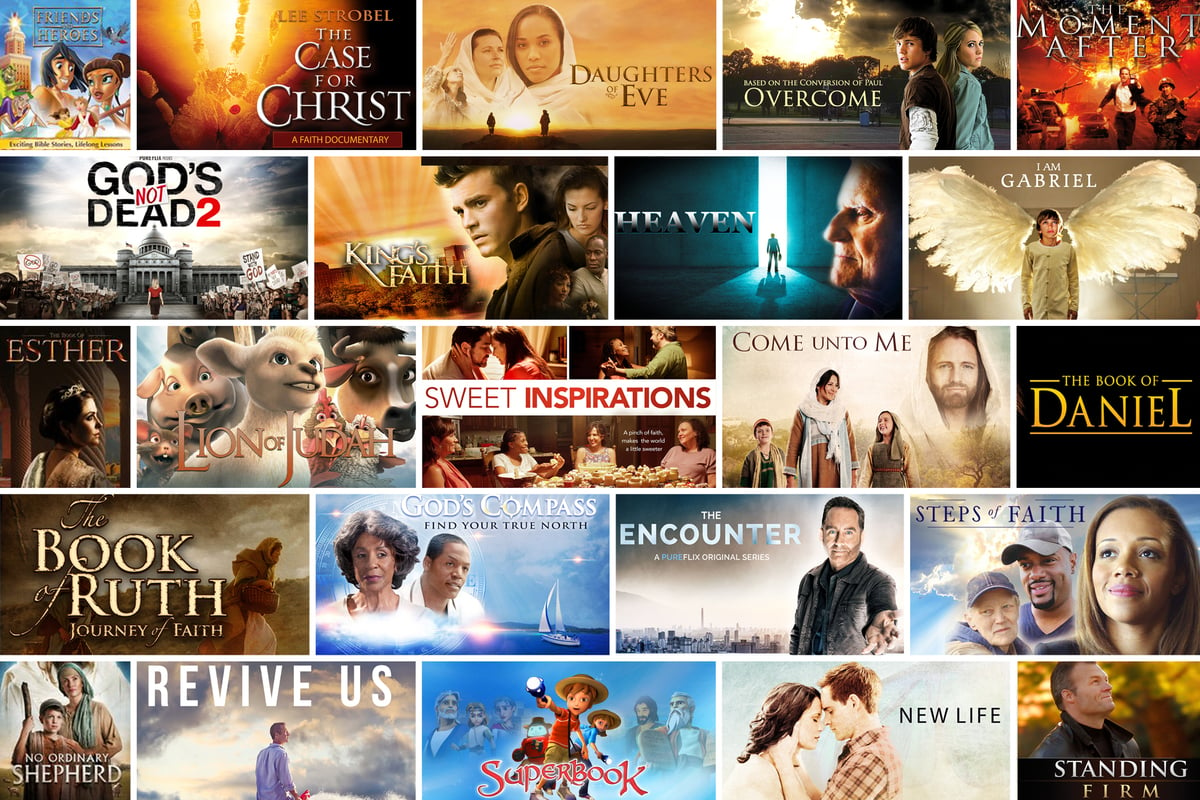 Watch the Best Christian Movies
Grow your faith and entertain your family by streaming Christian movies online. Discover different genres of the top Christian and family television shows. Help shine the light of God's love by watching and sharing the messages of forgiveness, redemption, and so much more.
Christian Movie Resources
Download Free Christian Movies Guides

Are you looking to grow in your faith? Be inspired by Bible verses, daily devotionals, Christian news, parenting, and more.

Do you educate children at home? Homeschool families can enjoy movies and additional curriculum resources just for them.

Help make movie night meaningful for your family and many others. Each month Pure Flix memberships impact people all over.